So I've seen/gagged at a fair amount of "haul videos" on YouTube, wherein girls empty Sephora bags and gush over their new lipsticks. No hate, I do the exact same thing after any shopping trip - just not in front of a webcam. I'm not that type of person. I AM, however, the type of person to write about my book store purchases. Seems fitting, right?
So here it is. My "haul blog post."
There is absolutely not ring to that sentence. Sorry not sorry.
First up: CLEOPATRA, A LIFE by Stacy Schiff. Pretty self-explanatory, a biography of the last queen of Egypt, arguably the most intriguing woman in history.
I've been wanting to pick this book up for ages, I just always seem to forget when I step into Barnes & Noble. P.S. I love Barnes & Noble and will be first in line at the funeral if they go under. Anyway, this little gem was parked right in front of the entrance and was ON SALE. I am, above all things, a sucker for a sale and a good book, and this was BOTH. It was a miracle I tell you. So I grabbed Cleo and continued on towards the book I originally entered the store to buy. Fair warning, I'm one of those people who intends to buy one thing and leaves with 67 others. At least this time it's books and not shoes. Side note: the book is just so pretty. The cover design, the inner cover, the parchment-y pages. I'm in love.
The next book I picked up (still not the one I came into buy) is GUNS, GERMS, AND STEEL: THE FATES OF HUMAN SOCIETY by Jared Diamond. This is a nonfiction book that discusses the formation of human societies and how/why Eurasian civilizations were able to rise to such dominance.
By far, this is the second dorkiest book I've ever purchased. The honor of first easily goes to my vast collection of Lord of the Rings reference books (including an atlas, encylopedia, weapons guide etc.). I absolutely love history and, again, I've been wanting this book for a long time. It always ends up in B&N pile and then gets cast aside at the last minute. Today, it made it past the final cut. I'm especially interested in reading this for my own creative purposes - worldbuilding is a hobby/obsession/compulsion of mine and studying well, the building of our own world is the best thing I can do to help stretch those muscles.
Yeah, I know, I just bought two Pulitzer Prize winners. I swear I'm not usually so highbrow. For example, the book I'm currently finishing up is a post-apocalyptic vampire epic.
My last purchase, the one I entered B&N for in the first place, is the one I'm particularly eager to start. It may or may not have to do with one of my works-in-progress.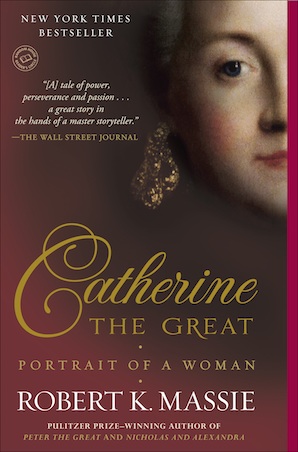 CATHERINE THE GREAT: PORTRAIT OF A WOMAN by Robert K. Massie is, again self-explanatory, a biography of Catherine the Great, a minor princess who rose to become Empress of Imperial Russia during the 18th century.
I've been wanting this since I started reading NICHOLAS & ALEXANDRA, another Imperial Russian book by Massie. I'm particularly interested in the time period, depicting a woman's rise to the monarchy in a time period much better known for revolutions. Also, I'm really into Imperial Russia and female biographies. This is both. Like GG + S, I'm not reading this entirely for my own entertainment and I'll probably be taking notes while I read. If I remember to. Full disclosure: I never remember to take notes. I do, however, highlight, but only if I have a second copy. (Looking at you, Lord of the Rings). ((Actually that copy fell apart because I read it too much. RIP LotR paperback)).
That's my book haul. Questions, comments, insults?